OUR WORK ETHIC
Service. Quality. Local.
This is the best way to describe Stone Surface. The culmination of 30 years in the granite business, we have the experience to handle any project in Maine and New Hampshire. From sales to fabrication to installation, you can count on us to provide superior service and a "do whatever it takes" attitude.
Our low overhead gives us the ability to offer competitive pricing while maintaining a level of service and customer focus that the box stores simply cannot do. When you come to us for your project, you meet with the people that will actually be installing the product and servicing it after the sale.
We are able to offer an extensive display of inventory to choose from, by stocking over 300 granite slabs our customers are able to pick from all of the latest styles and trends.
Our in-house certified kitchen designers can easily walk you through the design of your new kitchen or bath. By combining the cabinetry, countertops, and flooring together, it is one-stop shopping…and a lot of saving.
Call or email us today, and give us the chance to show you what our commitment to quality is all about. We may not be a big city or big box company, but we think that is what sets us apart from all the rest.
WHO WE ARE
All of Stone Surface employees live in Maine, this means each time we do a job – it's our reputation on the line. We have to get it right and we know you have choices. Give us a chance to show you why we work so hard to make your dream kitchen or bath come to life.
---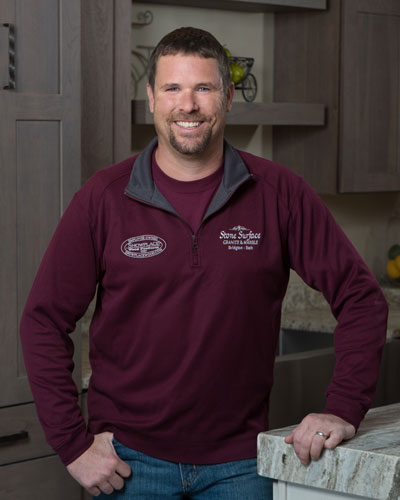 Greg Smith – President & Owner
Greg has been in the granite and marble industry for over 25 years. He first learned the trade working with experts in the field giving him the skills he needed to return to his home state of Maine and start his own business. From the beginning days working out of his garage, to a showroom/fabrication shop in Naples, he has come a long way. Greg's commitment to his family, his employees, and his customers are what sets him apart from your average small business owner. On any given day you can find him at an installation, meeting with partners, working in the shop, out on the road, or at his desk late into the evening. When Greg isn't working, he is spending time with his daughter enjoying the outdoors; boating, snowmobiling, skiing, camping or traveling.
---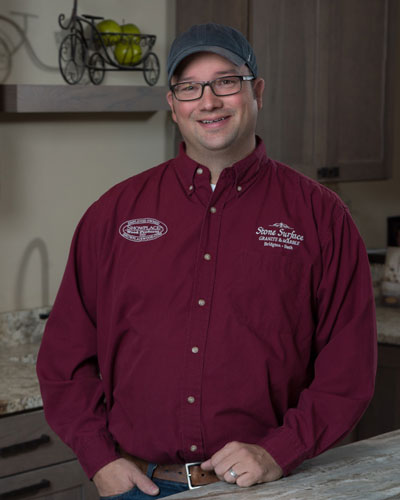 Craig Hill – Vice President & Commercial PM
Craig has been with Stone Surface for over 6 years as the Commercial Project Manager. He joined Stone Surface from a large general contractor where he was a project manager for over 14 years. Craig graduated with a BS in Architectural Engineering from Wentworth Institute of Technology and is a LEED Accredited Professional. Craig's expertise in managing any scale commercial project makes him one of the best in the area. His experience in the industry and the ability to handle any challenge ensure projects are delivered on time and within budget. When Craig is not working in the showroom, he is skiing, camping, and enjoying the outdoors of Maine with his wife and two children.
---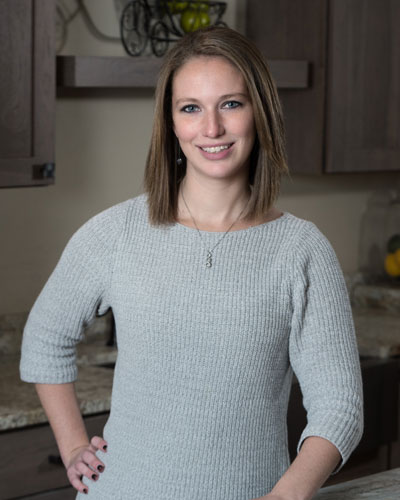 Maria Landry– Operations Manager
Maria has been with Stone Surface for over 8 years. She is the operation's mastermind. She handles Stone Surface accounts, runs the day to day scheduling, coordinates installations, deliveries, and makes sure the right crew gets to the right job as expected. If someone needs to know where a crew is, what is happening on any given day, or how to handle a sticky situation, they ask Maria! When she is not at work she enjoys spending time with her two daughters, twin sons and husband, visiting family and enjoying the outdoors, no matter the season! Snowmobiling, 4-wheeling, camping, and kayaking are some of their favorite activities!
---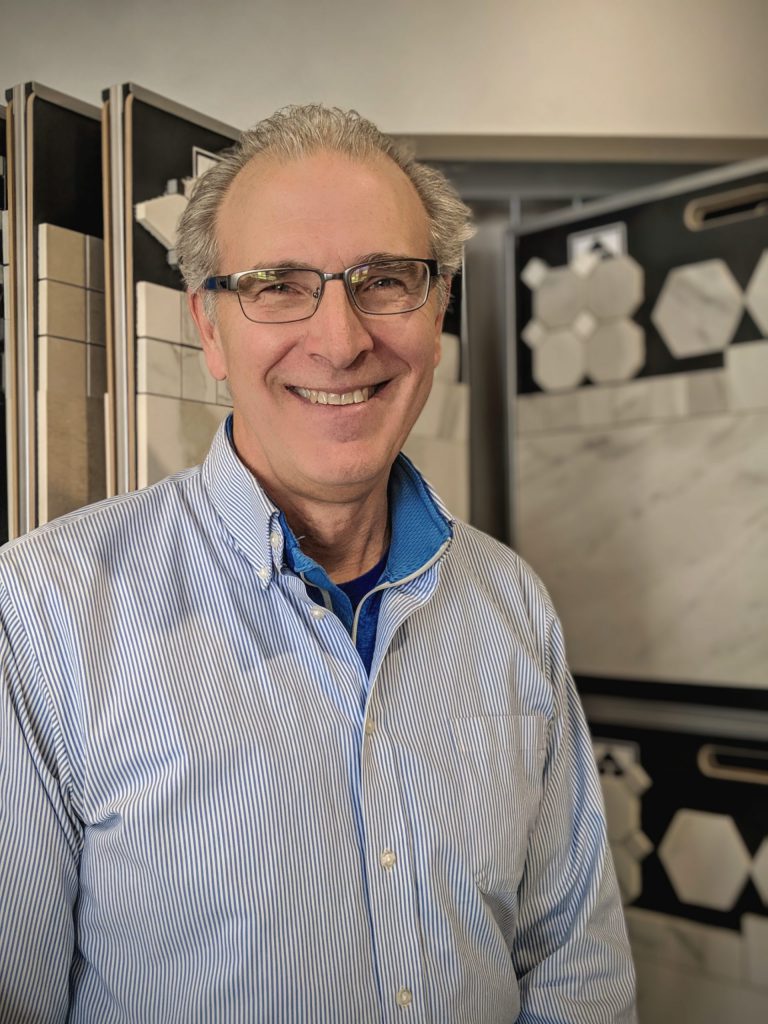 Steve Bortles – Flooring Manager
Steve joined the Naples team to manage the new showroom and introduce tile & flooring to the Stone Surface portfolio. Coming to us from a Portland flooring store, his sales and management experience will bring a foundation for us to expand our business. Using the relationships he has developed during his 25 years in the flooring industry, we are partnering with manufacturers from around the world to give you exciting tile and flooring options for your home. With a passion for design and customer service, he enjoys helping customers turn their dreams and ideas into reality. Steve enjoys life in the Sebago Lakes region, exploring Maine with his wife Becca and their yellow Lab Cruzan while taking every opportunity they can to spend time with their children and grandchildren.
---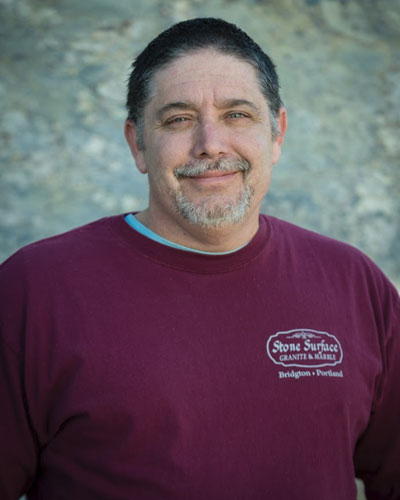 Chris Street – Production Manager
Chris has been a part of the Stone Surface family before it was established as a company. Having worked with Greg in the trade while in Florida, he relocated to Maine to manage the ever-growing fabrication production. Since moving to Maine with his wife and two sons, Chris has been a great asset to the company as an experienced production manager with attention to quality control for all jobs no matter how big or small. He brings more than 20 years of experience to Stone Surface and his commitment and guidance is key in producing the quality work our customers have come to expect from us. In his downtime, Chris likes to spend time outside with his family and explore his new home state.
---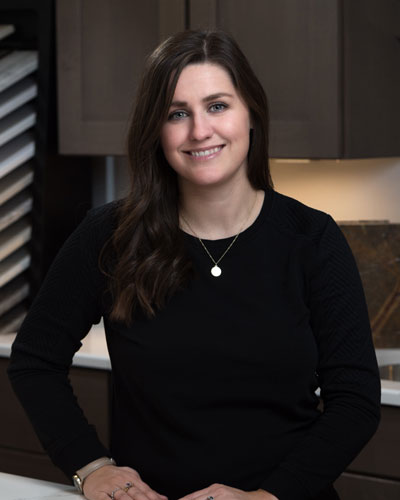 Karlie Rouzer – Kitchen & Bath Designer
Karlie has been with Stone Surface for over 5 years after relocating to Maine from Florida with her husband and two sons. She brings a Bachelor of Fine Arts for Interior Design along with 20/20 software certification. You can find Karlie in our showroom Monday through Friday always ready with a smile to help make your kitchen or bath dreams come true no matter what your budget is. Helping you plan your space is her passion! When she's not working, Karlie is usually spending time with her family enjoying Maine's great outdoors, cooking something fun in the kitchen, or reading a good book.
---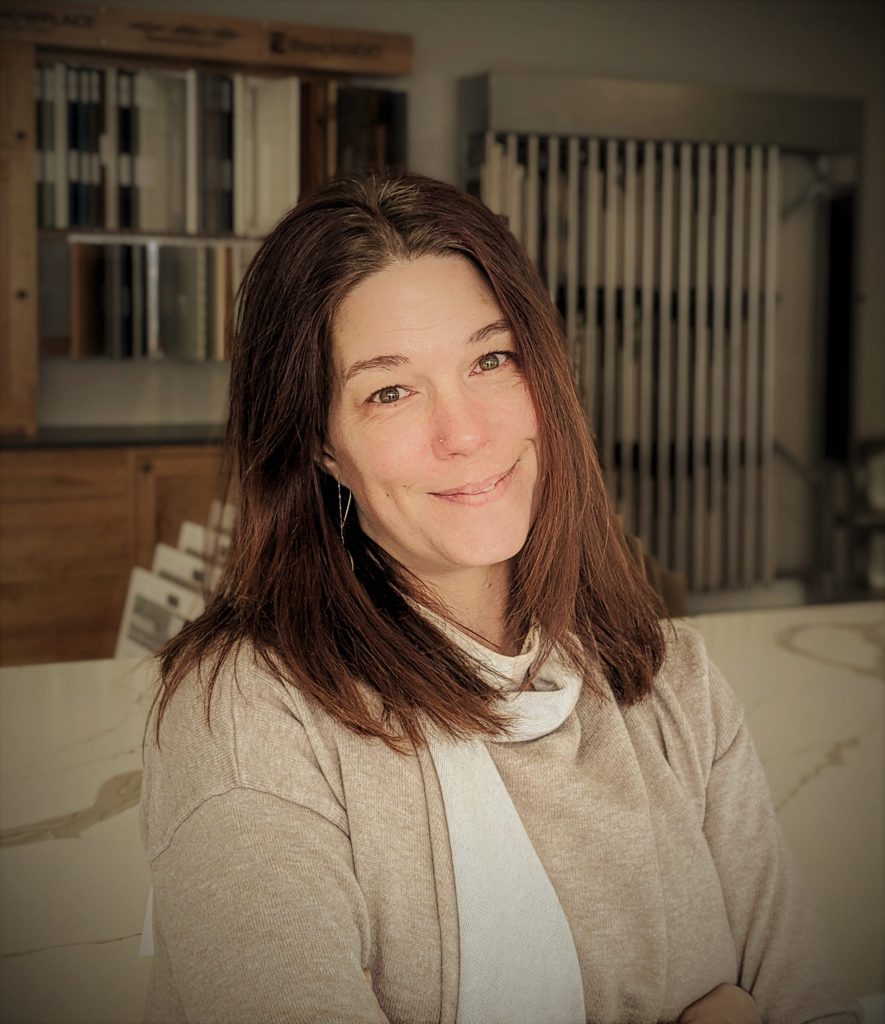 Tricia Blood – Retail Sales
Tricia joined our Stone Surface Naples team as a designer. Tricia brings with her a refined easy sense of style and 14 years of experience from a national flooring retailer with a strong background in the kitchen and bath field. Her ability to deliver projects on-time and work within a budget while capturing what a customer is truly looking for is one of many reasons we asked her to join our growing team. When she is not working hard in our Naples showroom, Tricia is spending time with friends and family out on the lake boating or camping in the woods.
---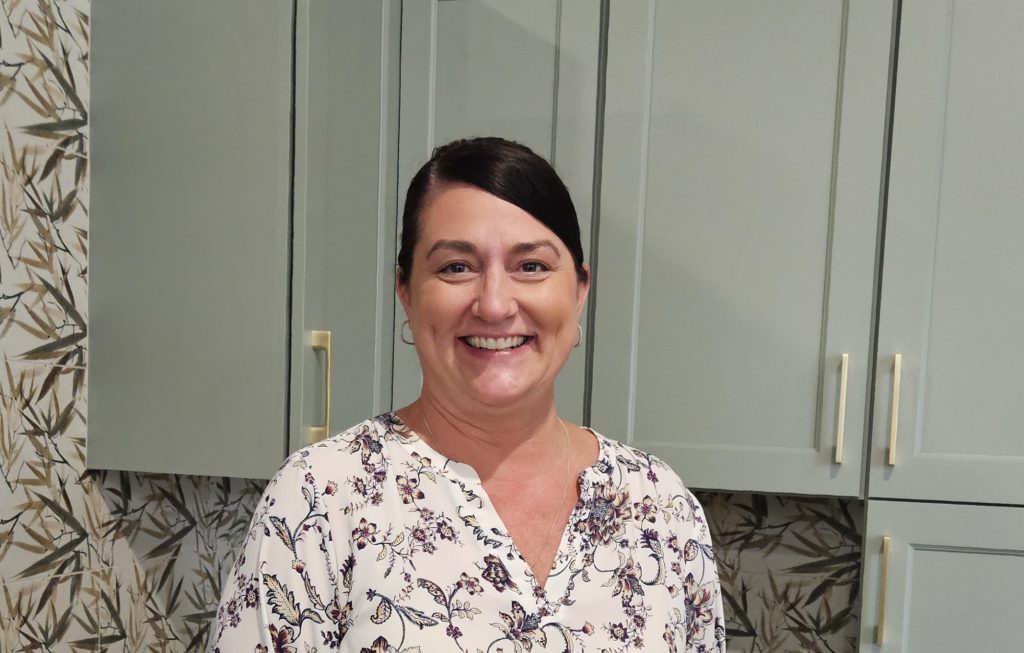 Shelley Juneau – Retail Sales
Our most recent sales hire Shelley is new to the industry but brings an abundance of customer service experience. When Shelley is not working, she enjoys cooking and being with friends and family, whether on the lake, or on the mountains. She especially enjoys traveling with her husband to watch their daughter's college ski races.
---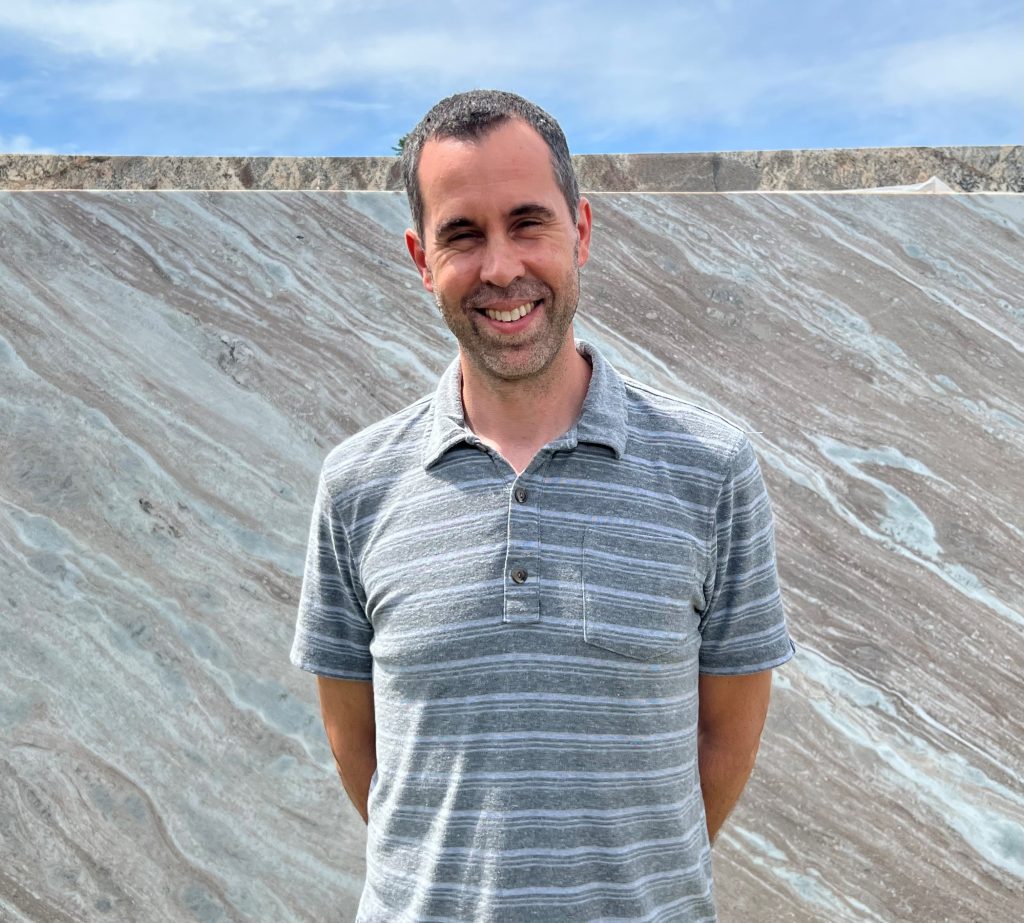 Eric Whitehouse
Eric joined the Stone Surface team in 2022 with an extensive background in the industry. In the past Eric was a cabinetmaker for over 20 years and a tile installer for the last 10 years. Eric is assisting our commercial division, organizing cabinet deliveries, and doing on-site measures for cabinet orders. Outside of work Eric enjoys spending time with family and friends-especially outdoors. You can find him frequently hiking, camping, and gardening.
---